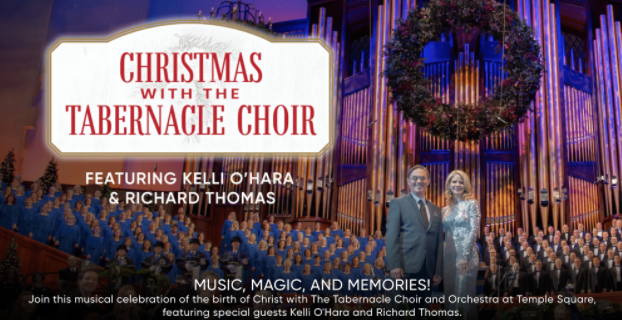 Because of COVID-19, there is no live Christmas concert with the Tabernacle Choir and the Orchestra at Temple Square (which concert always features a special guest artist or two).
But for the first time ever, you can watch one of these concerts (last year's) on television or your computer! (COVID has opened a lot of new opportunities for sharing and experiencing beautiful things.)
This performance includes guests Kelli O'Hara and Richard Thomas. The concert will premier today at BYU-TV at 8 p.m. EST/5 p.m. PST.
It will be rebroadcast Sunday, December 20th, at 7:30 ET/4:30 PST and Wednesday, December 23rd, at 7:30 EST/4:30 PST.
Hear some of Ms. O'Hara's thoughts about being able to perform with the Tabernacle Choir and Orchestra at Temple Square, and catch a glimpse of what goes into making one of these concerts a reality.
Many thanks to those who did what it takes to help make this concert available for us this year!