~by Michelle
This is how I saw someone describe the Semiannual Worldwide General Conference of The Church of Jesus Christ of Latter-day Saints [forgive the U.S.-centric sports reference]: "It's like the Super Bowl but all about God's love." [The fact that we sometimes gather in our homes with some favorite foods might have something to do with the reference.]
Another way to say it is that General Conference is a big deal for members of The Church of Jesus Christ. But, of course, the food that matters most is the nourishment we seek for our souls. And the millions of people gathering to watch around the world is about learning about how Christ has already won. He's conquered everything that we may face in life. And He understands it all.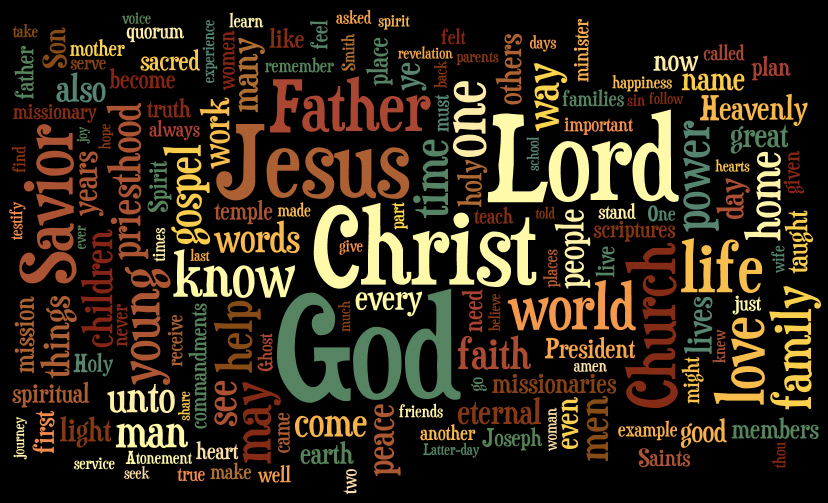 Back in ancient days, the church (of ancient-day saints) had leaders like Peter, James, John, Paul…those called by Jesus to preach of Him be witnesses of Him and to invite people to follow Him and to align their lives with His ways. To find His love and peace. In the latter-day church, we have apostles and prophets as well. They, along with other general-level leaders of our faith (men and women) speak over the course of two days about Jesus, about how His church came to be restored to the earth, and how we can seek to align our lives more fully to follow Jesus and to let Him help us and bring more peace and strength to our lives. (You can watch some highlight videos from previous conferences that feature parts of talks from apostles at the General Conference YouTube channel.)
When my children were young, we'd set up tents in our family room (that idea points to another ancient story, this one in the Book of Mormon, where families turned their tents toward the temple and the prophet). We'd gather some of our favorite snacks, print out papers that they could color or mark as different leaders spoke, and try to make it memorable. [This photo is from years ago, when our site was called MormonWoman.org].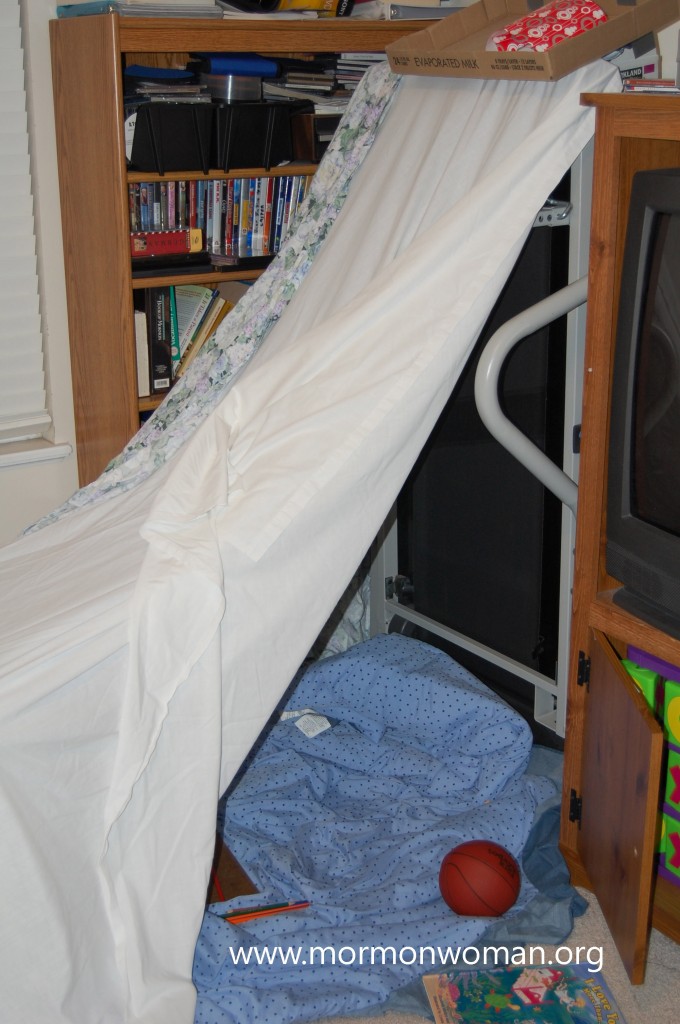 My children are all adults now, but I love thinking about the fact that we'll be all experiencing this conference wherever we are, so we are coming together along with our worldwide Church family, millions strong! One of the things that amazes me about General Conference is that millions of people watch the same talks, and millions of people also come to General Conference seeking personal inspiration as we engage in the talks. General Conference is not just about what we hear, but about what we experience in our desires to be guided by God in our individual lives.
As has been the case since the pandemic hit, General Conference this weekend will only be broadcast online. Pre-pandemic, the Conference Center in Salt Lake City would be packed with 22,000 people inside plus the international broadcast.
There are myriad ways to watch or listen to the five different sessions of the conference that will be held over the course of two days (October 2-3, 2021).
Sessions will be held at 10:00 a.m. MDT and 2:00 p.m. MDT on both Saturday and Sunday, and there is also an evening session on Saturday at 6:00 p.m. MDT.
Following are some of the options for watching or listening to the livestream. (Video archives of the conference are also available almost immediately at ChurchofJesusChrist.org and text is usually online a couple of days after the conference is completed).
Watch the livestream at the broadcast page at ChurchofJesusChrist.org. Livestreams at the Church's page will be available in 70 different languages.
The livestream will be available in over 30 different languages at the Church's YouTube channel.
You can watch or listen to the English livestream at the Church News app; Latter-day Saints Channel internet radio, Latter-day Saints Channel app on your iOS or Android device, or Roku, Apple TV, Fire TV and Android TV; BYUtv.org, BYUradio, or the BYUtv app; the Deseret News app, KSL TV, KSL NewsRadio, ksl.com or the KSL app; or via Amazon Alexa devices which can be enabled to stream this content by saying, "Alexa, enable Gospel Voice [more detailed instructions can be found here).
We hope you will join us.