~by Michelle
Sometimes here at Women Seeking Christ, we share stories about men seeking Christ, too. This story is also about a woman sharing about her faith in way that changed someone's life. [It ended up changing hers, too, but that isn't the story today.)
My daughter shared this video with me and I thought it was worth passing along. It is an interesting interview with Andy Rosenberg, a 17-time Emmy award winning NBC sports director, who talks about his journey from being Jewish to atheist to eventually learning about and joining The Church of Jesus Christ of Latter-day Saints. But he talks about a lot more as well. If you like sports, you will likely enjoy his lens on sports as an expert in bringing sports moments to life for viewers. The video includes many images from sports moments in the Olympics and in other sports realms. [For some reason, sports is a theme as of late, but what drew me to his story was his religious journey. I had no idea I was going to learn so much about sports broadcasting as well! My daughter is a sports fan, so I'm sure she also loved that part of the interview as well.]
https://www.facebook.com/FindHisLightFlorida/videos/899388221003150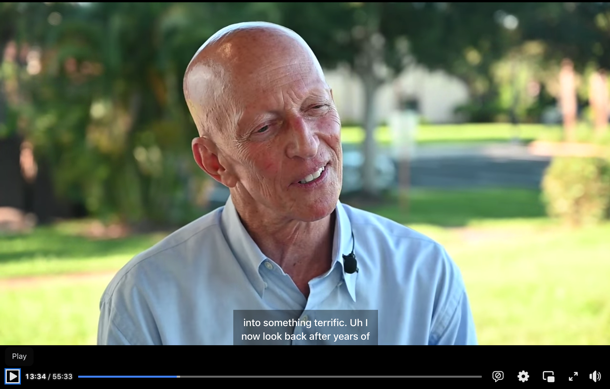 If you don't have a Facebook account (and I wouldn't blame you if you don't), you can read a little about his story here. https://www.thechurchnews.com/archives/2001-09-08/olympic-visitors-are-in-for-a-treat-112613
Rosenberg was first introduced to the Restored Church of Jesus Christ at the Seoul, Korea Olympic games. He was introduced to a colleague working on graphic design at the Games, and she was introduced as a "Mormon." His first instinct was to think she was probably a "religious freak" and he didn't think much of it, until he saw that she was just another person doing her job. He started to ask her questions. He quietly observed. He read and learned from people like Jan Shipps outside the faith to ensure it wasn't a cult. He opened up to the missionaries. His friend invited someone who had been Jewish before joining the Church so he could connect with someone about what it meant to him to come to believe in Jesus Christ. He read the Book of Mormon, committing to read the whole book before he would consider joining the Church. He could see that this book would be the lynchpin. The Book of Mormon talks directly about Jews, and at first that threw him off. But he tried again and "the book was just covered with blue ink" as he marked things that stood out to him. He could feel the voice of God in the text.
The turning point came when he came to Alma 32 about planting, and growing, and nurturing a seed of faith. He kept "testing and reading" and finished the book and knew then that he was ready to be baptized. But even with those feelings, he was concerned because he was more liberal and more accustomed to a more liberal sociocultural environment. He was worried he wouldn't feel like he belonged. But of his choice to join the Church and of Shari's willingness to share it with him, he says, "she got me into something terrific." [He ended up marrying Shari Conover, the design expert who was in Seoul at the same time he was, also working as a freelance graphics operator for the Olympics.)
Hear his story and also many of his experiences working with NBC for 30 years, trying to give the viewer an experience with sports that is "better than a front row seat."
He shares lessons he has learned from a some world-class athletes like Roger Federer (he summarizes the character of "truly great" athletes who are great because they are "great as a human being" — the who they are transcends what they do. He uses a quote on the outside of the Wimbledon clubhouse where a line from Rudyard Kipling's "If" stands to illustrate what he means:
If you can meet with Triumph and Disaster
And treat those two impostors just the same…
Rosenberg talks about memorable sports moments with people like Michael Johnson in Atlanta in 1996, or Usain Bolt having fun with the camera right before a competition, or one of Michael Jordan's last games, or Magic Johnson wanting to "win for the team" (Rosenberg connects this idea to the gospel of Jesus Christ — that it's for everyone).
I was especially moved as he talked about his experience going to church with Via Sikahema (former National Football League (NFL, American football) during the Athens Olympics. Meetings were held in a 7th-story building that the Church was renting. Rosenberg says,
"Needless to say…[channeling an idiom] it was all Greek to me! But in and amongst that [which was foreign to me] were lots of visitors who were there for the Olympics as well as lots of Olympians from [many] different countries…dotting the globe who had taken time from their day, from their practice, to come to church, to show reverence to God, to commune with God….And then when it came time for the hymns, the bulk of the congregation sang…in Greek. We [who were visitors] each sang it in the language we knew. The spirit that I felt, irrespective of the language was enormous…to know that's what it'll be like when we get to the other side, beyond this life, to teh other side of the veil when we're all together. We'll all be together as one, we will have come from all these totally different backgrounds, totally different languages, but we'll be all there with our Heavenly [Parents]. Is there anything more glorious than that?"
In a world where we often define and divide ourselves, I thought his reflections from that church experience in Greece were valuable to remember. We are all children of God, each having our own experiences on this earth. Even if we share faith (or even if we don't) our lives are unique and the language God uses to speak to us can be unique and our journey to find our way and to find truth and to find God is unique. Someday we will all see beyond what we can see and will be able to see and understand more about what we were blind to here. But this interview reminds me that I want to do what I can to try to see beyond the dividing lines while on this side of the veil, too. Thanks for the reminder, Brother Rosenberg.