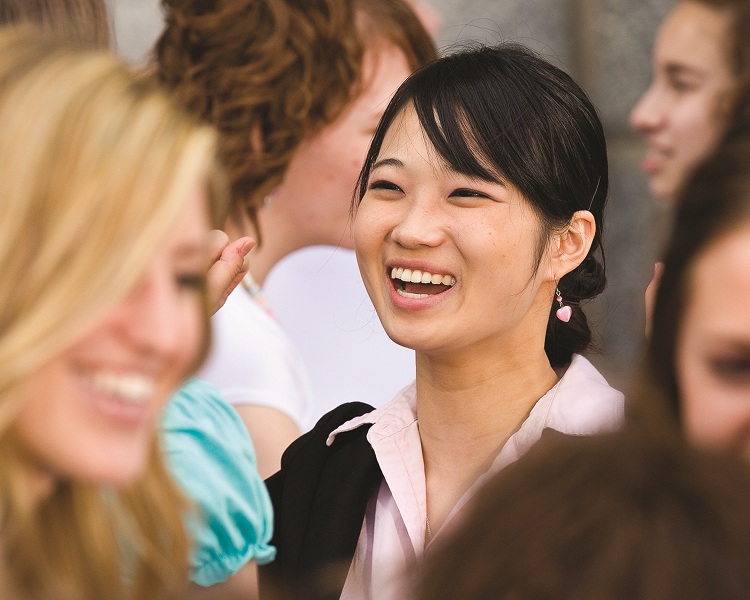 "Sometimes [God] refines us in ways we might not have wanted because He intends to use us in ways we might not have thought." Emily Belle Freeman, quoting her sister, in a talk entitled "Finding God's Fingerprints"
I listened to this talk today, and was moved by many thoughts Emily Belle Freeman shared. Among others, she talks about how the hard times we go through may be helping us prepare for ways God needs us to help others.
She recounts the story of a "wise woman" in 2 Samuel 20 who lived in the time of King David's reign. The kingdom was under threat, and a general in David's army had a plan to surround the city where the primary enemy, Sheba, was.
But his plan was to destroy the whole city to overcome this one man.
The "wise woman" "cried out of the city and said,
Hear, hear; say, I pray you, unto Joab, Come near hither, that I may speak with thee.

And when he was come near unto her, the woman said…I am one of them that are peaceable and faithful in Israel: thou seekest to destroy a city and a mother in Israel: why wilt thou swallow up the inheritance of the Lord?
Her negotiations and subsequent actions "in her wisdom" (engaging her people in helping with the problem [cutting of the man's head…not exactly your 21st-century solution, but one matching the time] saved everyone in her city from destruction.
Emily calls this woman a "difference maker." We don't know this wise woman's backstory, but we can have confidence by what little we see in the text that she is a devoted woman of God. What life experiences might have influenced her to exert such courage and clarity at such a time as this?
I'm struck that the key difference that she made was through a brave but simple one-on-one conversation, and then collaborative work with other God-fearing people, leading "in her wisdom."
I recently had a conversation with a friend about the power of women. She stirred feelings in me that prompted me to start this website in the first place. As did Emily.
When we know who we are — or Whose we are — we can be stronger instruments in His hands to do good in the world.
Here are a few quotes that capture what it might mean to be a "difference maker" as a woman of God.
I believe the change we seek in ourselves and in the groups we belong to will come less by activism and more by actively trying every day to understand one another. Why? Because we are building Zion—a people "of one heart and one mind."9 As…women [of God], we have broad influence. That influence is applied in everyday moments when we are studying with a friend, putting children to bed, talking to a seatmate on the bus, preparing a presentation with a colleague. We have power to remove prejudice and build unity. –Sharon Eubank
"We are women of faith, virtue, vision, and charity who rejoice in motherhood and in womanhood and in the family. We are not panicked about perfection, but we are working to become more pure. And we know that in the strength of the Lord we can do all righteous things because we have immersed ourselves in His gospel (see Alma 26:12)." –"We are Women of God" – Sheri S. Dew.
"To be a righteous woman is a glorious thing in any age. To be a righteous woman during the winding up scenes on this earth, before the second coming of our Savior, is an especially noble calling. The righteous woman's strength and influence today can be tenfold what it might be in more tranquil times" (Teachings: Spencer W. Kimball, 217).
"If we don't do our part, no one else is going to do it for us. … We can't delegate [our part in Heavenly Father's plan of happiness]. We can't pass it off to anyone. It's ours. We can refuse it, we can deny it, but it's still our part, and we're accountable for it. There will come a day when we will all remember what we knew before we were born. We will remember that we fought in a great conflict for this privilege. How do we meet this responsibility? We daily put our energies into the work that is uniquely ours to do" (Julie B. Beck, "Understand the Divine Roles of Women," Ensign, Feb. 2009, 67).
And if we can seek to remember now what we knew before we came to this earth — and we can remember, or at least catch glimpses, through the help of the Spirit of God — then we will be led as to how we can be difference makers — to help bring Christ's love and healing power and to the lives of others.
Or at least bring that invitation to "Come and see."