~by Patricia Katopol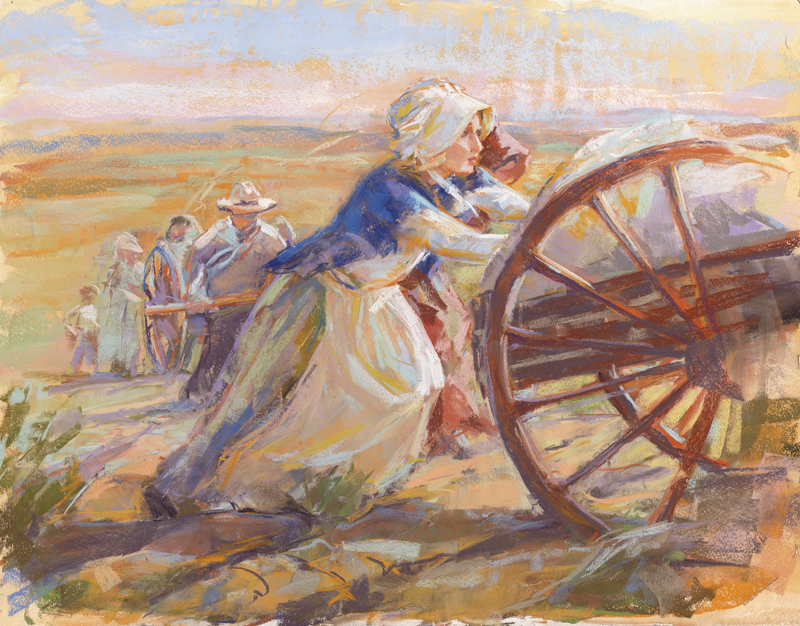 One summer, I decided to learn about The Church of Jesus Christ of Latter-day Saints. Actually, this is not as strange as it seems. As a college professor, I was off for the summer and had a lot of time to myself. I also happened to live a few blocks from 'Mormon Trek Boulevard' and near the Mormon Handcart Park in Iowa. New to the area, I often wondered, what was the 'Mormon Trek'? And why is there a park for handcarts? So, I went to the university library and borrowed a handful of books about the history and culture of the Church, topped it off with a Book of Mormon, and began reading.
I learned about the Church's teachings, such as Family Home Evening, the Word of Wisdom, and its support of family life. It all appealed to me as a good way to live. At the time, my grown son shared my home. I'd read, get excited, and go talk to him about it. It got to the point where he'd hear me coming and call out, "Are you going to talk about 'Mormons' again?"
I also watched any Church-related YouTube videos I could find, especially opening mission calls, which I found intriguing. While some were serious, others were full of good-natured fun, with families pinning their guesses on a map – and everyone seemed so happy. Why? I'd seen missionaries in the cold and rain. I learned that they didn't get paid and couldn't watch TV. I wasn't sure what there was to be happy about. And yet, there must be something about this Church that made people ecstatic about giving up part of their lives when others enjoyed a carefree college experience or starting a career. Around this time, I also felt prompted to do something a little weird. One day, I drove up to the church and took a look. I don't know what I expected the building to tell me, but I went and sat in the parking lot anyway.
As I worked through my readings, I learned about General Conference, the semi-annual meeting during which Church leaders give talks on "how to find peace, hope, and joy in Jesus Christ; how to strengthen families by following Jesus's teachings; and how to receive personal guidance and inspiration from God"1 and decided to watch. I figured they were probably going to scream and tell me I was going to hell, but misgivings aside, I tuned in. Maybe I'd find out why those missionaries were so happy.
It turned out that Conference was nothing like I expected. I often describe it as 'homey' – so warm and comfortable. Instead of being told I was an irredeemable sinner, I heard caring people speak on a variety of topics. Most meaningful to me were Elder Claudio R.M. Costa's2 talk on obeying the prophets (the concept of a living prophet was new to me) and how Elder Jeffrey R. Holland3 showed that 'regular' people could serve the Lord as they served His children. I didn't need to be perfect. Again, I rushed to share my feelings with my son ("You aren't going to talk about 'Mormons' again, are you, Mom?)
A week or so later, I was preparing for class one evening when there was a knock at the door. I peeked out to see two missionaries standing in the chilly October night. What luck! Finally, I could talk to someone about the Church. I asked them to wait while I got myself together. When I opened the door again, I had my stack of books and blurted out excitedly, "Did you see the Conference?" Eyes like saucers does not begin to describe the look on their faces! We spent an hour on my front porch talking about Conference and what I'd read. One of them looked at my books, noting I already had a Book of Mormon. "Oh no, this belongs to the library. It isn't mine," I responded. Again, his eyes got big and he gave me my own copy. Months later I learned that they had gone to all the other houses on my street. I was the last one and the only person who opened the door! I was meant to have that book.
Even though I tried to convince myself that I was only curious and not looking for a new religion, I invited the missionaries back. I went to a few services. I also went to activities at church and found a wonderful community in the Relief Society, the Church's organization for women. At times, I thought I could never be one of them – they were so nice, they had such close-knit families, and they could quote scripture, which I still can't do.
After a few months of investigating and with my son suggesting, "Why don't you just get baptized already?" I started to give it some serious thought, but hesitated. Being a member of The Church of Jesus Christ of Latter-Day Saints was more than just going to services on Sunday and doing what I wanted the rest of the week. It was deciding to make Christ an integral part of my everyday life and to join a community of people who had committed to the same. While I struggled with the decision, I was reminded of a scene in 'Indiana Jones and the Last Crusade.' Indy stands at the brink of a chasm separating him from the Holy Grail, which he needs to save his father's life. Like me, he also struggles with the decision to move ahead, but finally he steps out into the void, taking a leap of faith, and a bridge appears. I knew that's what I had to do. I didn't have all the answers. I wasn't sure what being a member would mean, but I knew I needed to take that leap to have the life I wanted. So, I got baptized. A year later, three of my original missionaries were still in the field and were able to join me at the Nauvoo Temple as I received my endowment. What a happy day it was for all of us!
Now, with almost 10 years in the Church, I have been blessed by the knowledge that whatever happens, God is there, and I cannot fail. When I faced a life-changing trial, people asked how I remained calm, even happy. Before baptism, I might have given in to despair, but as a member of The Church of Jesus Christ, I felt secure in the Lord's saving grace and that there was a heavenly plan for me. I knew I would be all right – and I was.
I have been blessed by following the Prophets' guidance. As of this writing, the COVID-19 pandemic still affects daily life in my town. By following the Prophets advice, I had enough food storage during the height of the pandemic and did not struggle to fulfill my needs. Importantly, since I didn't need to go to the store, whatever I would have purchased was available for another.
Finally, I mentioned I live near Mormon Handcart Park. Saints immigrating from Europe left from here to go to West. Those who could not afford wagons, built handcarts and walked across the prairie to Utah. When I learned that, I was awestruck. What do you mean men, women, and children walked over a thousand miles to Utah? How was it possible? It was possible because they had faith in the prophet and believed the Book of Mormon was true. Because of faith, not only could they walk across the prairie, but they could endure the many trials along the way – and keep walking. In my home office, I have a print of a young girl pulling her handcart in the snow. She reminds me that although I didn't walk to Utah like this pioneer, whatever difficulties occur, I will have faith because I know I am in God's hands. I know I can keep walking on my Mormon trek.
What is General Conference? https://www.churchofjesuschrist.org/share/what-is-general-conference?lang=eng