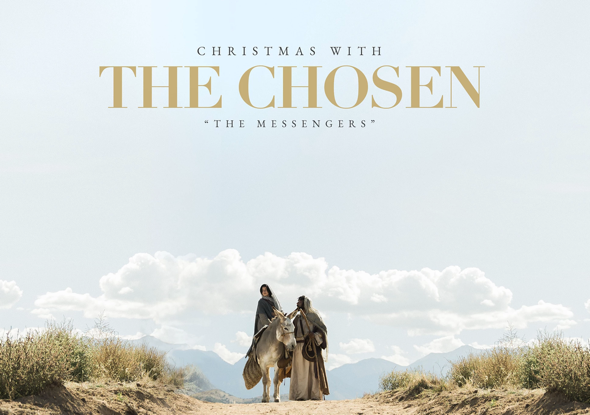 Last night, I watched last year's "Christmas with The Chosen" again, and I'm excited that tonight is the night that the 2021 "Christmas with The Chosen" livestream event is happening.
The Chosen took their Christmas special first to theaters this year. The director and producers of The Chosen hoped to at least be able to sustain two days' presence in theaters (only one showing per day), but the record-breaking response has extended the time "Christmas with The Chosen: The Messengers" will be in theaters: until December 16. [Edit to that…it looks like it will be running in some places all the way through Christmas Eve.]
But director, Dallas Jenkins, has never wanted this to be about making it big. He wants the message to go big, but his first focus is still on the intention to keep The Chosen available for free. He says on the YouTube link for tonight's livestream:
When the theater chains told us they wanted to extend our run in theaters, our response was, "That's great, but those who can't see it in theaters have waited long enough." So we'll see you LIVE Sunday night, Dec. 12, 8:00 ET, for "Christmas With The Chosen: The Messengers."

https://www.youtube.com/watch?v=UOTkTBxTxEA
If you haven't had a chance to watch last year's "Christmas with The Chosen," it's also worth a watch. The show includes powerful narration as well as guest musical appearances from For King & Country, Zach Williams, Mandisa, Chris Tomlin, Hillsong United, Joshua Aaron, The Bonner Family, The Piano Guys, Stephen McWhirter/Jason Clayborn, Phil Wickham, and Matt Maher.