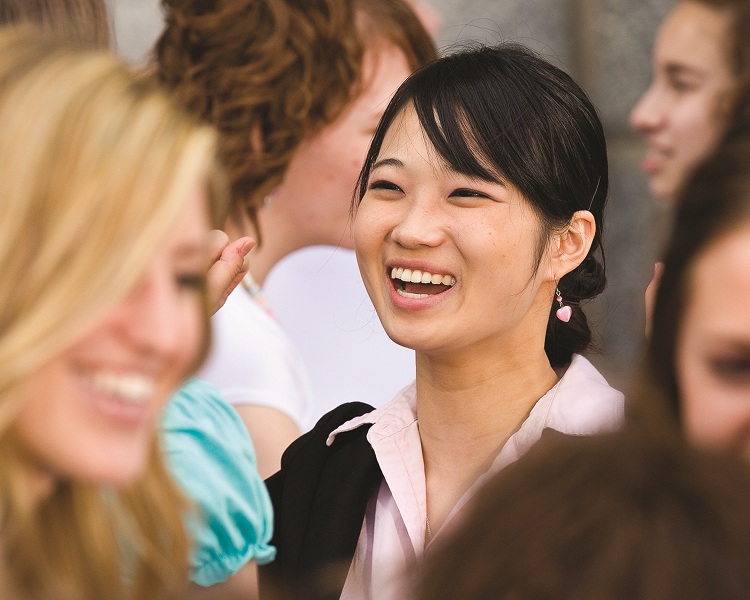 This past Tuesday night, we had a stake Relief Society meeting. [In The Church of Jesus Christ of Latter-day Saints, a stake is a group of about 8-10 local congregations. The Relief Society is the women's organization in the Church.] I love gathering with my sisters in the Church, and this meeting was one of the best Relief Society meetings I've ever attended. The messages were humble and powerful. Women shared personal experiences and reflections, and there were a few times when I felt their words were directly given from heaven, through them, for me.
I participated in the choir, and one of the songs we sang was the song that inspired the name for this site. Who We Are was written by Tammy Simister Robinson, who graciously allowed us to share the song on our site. The message and power of that song was captured beautifully in one of the talks. I wish you could have heard her give it in person, but she kindly agree to share the text of her talk here. I echo her testimony that knowing Who We Are can make all the difference in our lives. 
– – –
Who We Are 
~by Becky
In December, I was diagnosed with Multiple Sclerosis (MS). At first, I was stunned. How can this be? I feel fine, I am healthy. Questions for my future flooded my mind. What does this mean for my golf, my skiing, my eyesight?
As I wrestled with many emotions, I remembered June 18, 1988 delivering our second son, Joseph, who was stillborn. I recalled questioning then myself and my future. I remember sitting with my Mom on the couch and saying, "Life seems so uncertain."  I remember she simply said, "Becky, it always has been." I was reminded again of the song that helped me through that time by Janice Kapp Perry, which instructs us…; "Our journey will take us to far different places than we had ever dreamed, our journey will take us to sad, lonely places that some have never seen.  Places with a different kind of beauty; a special place apart, touching far different places in our hearts."
Each earthly experience is carefully crafted for our own finding of self and Deity.
I also want to share with my memory from 10th grade. As a youth I wanted to be a tall, blonde girl named 'Angie'. You know, I wasn't completely looking to be someone else but in some ways I was. Yes, I had successes but I wanted to be one of those beautiful girls that the guys just can't help but notice.
It was the spring of my sophomore year and time for cheerleader tryouts. I had been a cheerleader for 3 years – but this year was different.  The selection committee for varsity cheerleader was comprised of the junior and senior high school boys with four faculty members overseeing the event. 
The next day in an assembly they announced the winners. They called up the girls one by one. My name was not called. The losers silently filed out of the auditorium with our heads down. I particularly recall coming eye-to-eye with one senior boy who looked at me and seemed to snicker. I felt humiliated, ugly and undesirable. It opened a deep wound of self- doubt.
A couple years out of high school, I returned to Star Valley for the summer and found myself, one summer day, outside the school. School was out and only a few janitors were around the property. I walked inside. Walked to the auditorium. I tried the auditorium door. It clicked open. As I walked inside, the years vanished and I could feel again that day years before. But as I looked at the rows of seats, I thought how small it looked now. It used to seem so large. I thought, how did an event so minor seem so big at the time? And then, I understood: I didn't fully know who I was.
Today I know who I am.  I am a Latter-day Saint woman. I am a daughter of God. I am a unified eternal companion with my husband. I am a mother in Zion. Do I know all the answers to all of life's questions or to the future?  NO, certainly not.   
But these experiences address how fragile and difficult life can become.
Satan tries to confuse, and distract us.  He wants us to see ourselves as the world sees us.
Sisters, we will never become women of God until we overcome our mortal identity crisis and remember who we are and who we have always been.
Our spirits long for us to remember the truth about who we are because the way we see ourselves affects everything we do. It affects how we treat others, how we develop ourselves, how we handle both successes and defeat, how we feel about the Lord Jesus Christ and His message.
Remember what Polonius speaks, in Hamlet, "This above all, to thine own self be true, and it must follow, as the night the day, thou canst not them be false to any man." 
True vision of identity brings with it purpose and motivation for growth. 
The young women stand each week…."We are daughters of our Heavenly Father, who loves us and we love Him." 
It is a remarkable blessing to know that we are Daughters of God.
The Family: A Proclamation to the World declares that we each have "A divine nature and destiny." And the first words of the Relief Society Declaration are "We are beloved spirit daughters of God, and our lives have meaning, purpose, and direction."  And yet with all our talk, do we really believe?  Do we really understand?  Has this transcendent doctrine about who we are penetrated our hearts?
If we are to make our journey home, we need to have a clear understanding of identity and purpose.
My nephew, Alan stayed after school to finish a picture after kindergarten one afternoon because he lived only a few houses from the school.  Mrs. James had an appointment to get to.  She wanted to be patient but as the minutes passed she knew her time was running down.  She scurried Alan to the coat rack spying the only coat and boots remaining.  She sat Alan down and began to twist and push on his galoshes.  Standing him up and putting his arms in his coat, Alan then announced; "These aren't my boots."  Annoyed at herself, for being so presumptuous, Mrs. James pulled off the boots as Alan stated, "They're my sister's — but my mom makes me wear them." Again frustrated at herself for jumping too fast, she again twisted and pushed to return the boots to his feet. Almost complete, she asked; "Alan, Where are your gloves?"
He said; "They're in the toes of my boots."
How often are we so focused on doing the many tasks that seem to press upon us in pursuing the so-called good life that we don't stop to make sure we know who we really are and what we really need to be about?
While life is meant to test and challenge and strengthen us, if we are attempting to negotiate the twists and turns and ups and downs of mortality alone, we're doing it all wrong. We have access to not only to the divine text but to Him who authored it.       
He said in Doctrine and Covenants 25:10 "Lay aside the things of the world and seek for the things of a better." 
Our Savior promised, "I will go before thy face.  I will be on your right hand and on your left, and my spirit shall be in your hearts, and mine angels round about you to bear you up."  (D&C 84:88)
We are told:  "In the days ahead, a casual commitment to Christ will not carry us through."
Pres. Kimball stated; "Much of the major growth that is coming to the Church in the last days …will happen ….to the degree that the women of the Church are seen as distinct and different – in happy ways – from the women of the world" (Nov. 1979 Ensign) What a noble task!
I doubt many of us feel noble or great.  But as we come to understand, who we really are, we will feel greater purpose and more confidence living as women of God in a world that doesn't celebrate women of God.
Great blessing await us if we choose to come to the feet of the Master and make covenants through the priesthood of God that blesses us with great power and influence. "I invite everyone of us to stand on our feet and with a song in our heart move forward, living the gospel, loving the Lord, and building the kingdom."
We are covenant-keeping women of God, and our lives have meaning, purpose and direction.  Of this I testify!