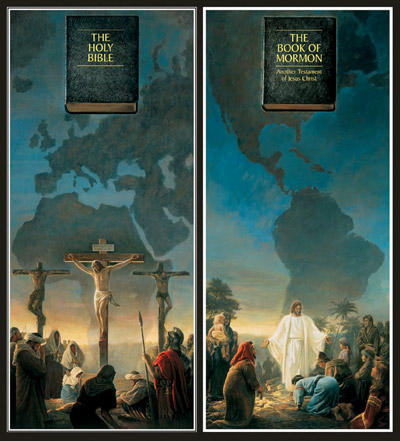 For members of The Church of Jesus Christ of Latter-day Saints, the Book of Mormon is a central part of our faith. It is another testament of the Savior, Jesus Christ — just as the Old Testament and New Testaments teach of Him (as Jehovah in the Old Testament and Christ, the Messiah in the New Testament).
The Church is creating new live-action videos to represent stories and doctrines from the Book of Mormon. Sharing this marvelous book with the world is one of the things that is central to the Church's mission. Why?
First of all, the Book of Mormon teaches even more about Jesus Christ. It talks of God's dealings with people who lived on the American continent, witnessing that even anciently (long before the interconnected world we now live in) God was engaging with and speaking to prophets and others in parallel to what He was doing in Biblical, Old World settings. The Book of Mormon is written for Jews and for Christians, for any and all who want to understand more about the Bible, about the purposes of the law of Moses, about God's grand vision for His children and their eternal well-being.
The pinnacle of the book records Jesus Christ's interactions with the people on the American continent, after His resurrection and ascension into heaven. It's an amazing account that spans several chapters, and includes various visits of Christ — to a multitude of people, to 12 disciples He chose to teach truth, and a particularly poignant account of His interactions with the children who lived around this area.
The Book of Mormon is also a book that simply — yet profoundly — impacts the lives of individuals. As Elder Robert D. Hales once said (paraphrasing), God so often speaks to us individually as we study and ponder scriptural texts. This is true of the Bible, and it is true of the Book of Mormon.
The Book of Mormon also is the vehicle for people to experiment with what Mormons believe about latter-day prophets, the restoration of priesthood authority, and the reality of life after death.
You can request a free copy of the Book of Mormon. If you are a member of The Church of Jesus Christ of Latter-day Saints and would like to share how the Book of Mormon has influenced your life, please comment below.
Learn more about the Book of Mormon videos below.