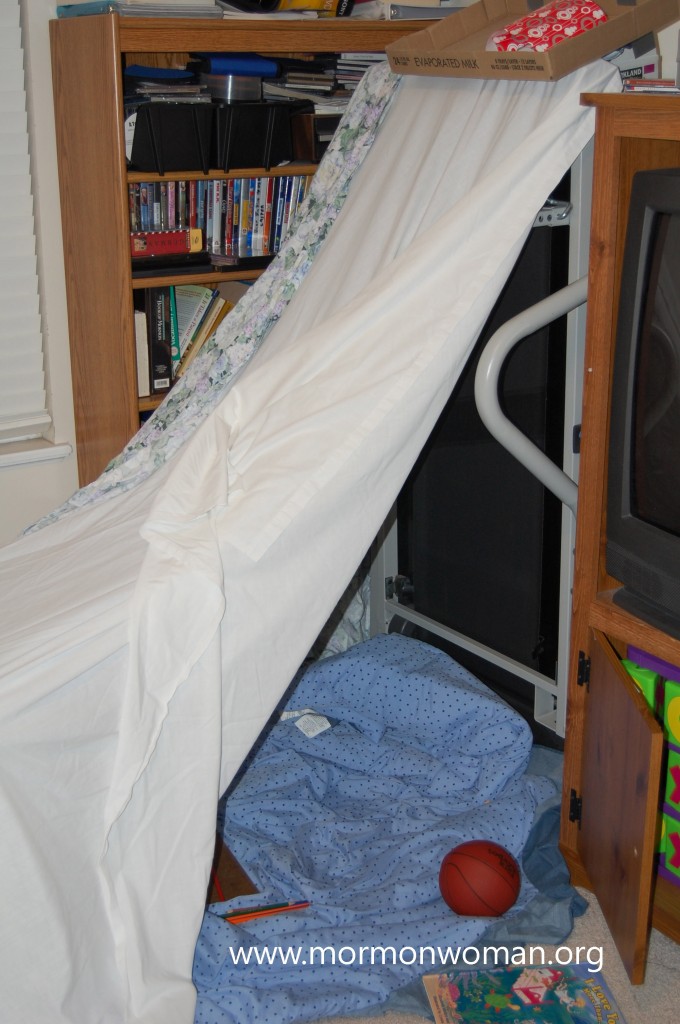 ~by Michelle
In our family, General Conference traditions are summed up in one word: tents.
(No, maybe two. Tents and treats.)
We love the story of the people who pitched their tents toward the tower the prophet-king Benjamin stood on so that as many people as possible could hear his counsel, testimony, and teaching. The "towers" used to project our prophets' words may be different today, but Mosiah 2 has become a starting point for every General Conference. We read his words and then each child gets to set up his/her tent, using sheets and tables and blankets and pillows. (Another family uses real tents. Since we aren't a camping family, we make our own!)
Eight hours, you may ask? Do children actually sit for eight hours and listen to people talk about religious things?
Of course when they were really little, it was hard to keep their attention, and kids will be kids, but my children really do love General Conference and usually do watch the whole thing (not all kids have that kind of attention span, though, I know).
My daughter (age 10) got really excited last night, in fact. "General Conference is this weekend!" she exclaimed with sparkling eyes. When conference sessions end, my children will usually groan. "Nooooooooooo! We don't want it to end!"
It's really a wonderful time. As a family, we slow down and hunker down and just enjoy feasting on God's word through his living prophets and other inspired leaders (both men and women). I think family traditions, even simple ones like tents and treats, can make it all more something children can look forward to.
I love my friend's tradition of pulling out their stash of legos while they listen. And crepes. Doesn't that sound divine?
If you are Mormon, what traditions do you have at General Conference time? If you have posted about your traditions on your blog, link to it so others can enjoy!
– – – – –
Around this time, we get a lot of requests for preparing for General Conference. Following are some links and resources to help you get ready, both to prepare beforehand and to encourage children and youth to engage in active listening.
The General Conference page at lds.org has reading material for preparing for General Conference:
Preparing for LDS General Conference: This list by Emily Jensen over at the Bloggernacle Back Bench has a bunch of links for General Conference activity ideas, printables, and more.
General Conference Notes Worksheet for Youth or Children – prepared by Nathan Richardson
Read other posts about how Mormons like to enjoy General Conference weekend.