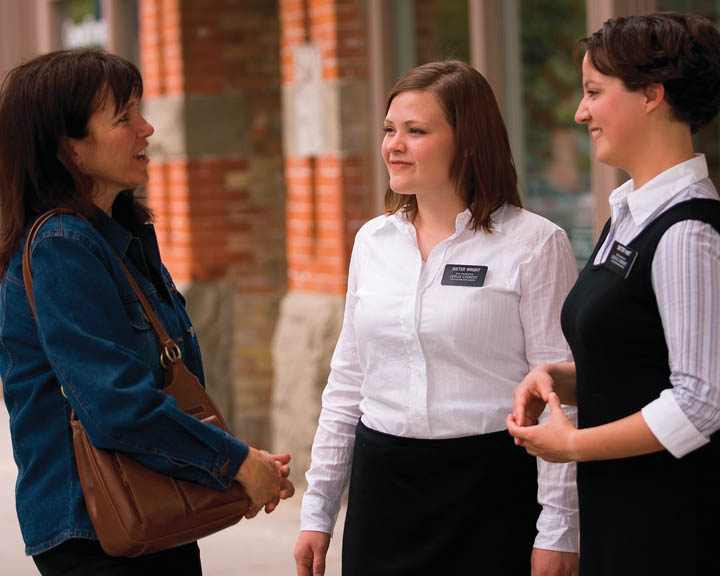 Last night at the Church's training for new mission presidents, we were told that we have over 70,000 missionaries serving worldwide. This number is expected to increase over the next several months.
Last fall, President Thomas S. Monson announced that the minimum age for young adult missionaries was changing – from 19 to 18 for young men and from 21 to 19 for young women. Since that announcement, the missionary force has increased in unprecedented ways. Fifty-eight new missions were formed as a result, and the mission presidents for those missions, as well as for over 100 other missions, will begin their service in the next few weeks.
Why do "Mormons" (members of The Church of Jesus Christ of Latter-day Saints) care about missionary work so much? President Thomas S. Monson has said:
"Missionary work is an identifying feature of The Church of Jesus Christ of Latter-day Saints. Always has it been; ever shall it be. As the Prophet Joseph Smith declared, "After all that has been said, the greatest and most importantly duty is to preach the Gospel."
We were reminded of this again last night in Elder L. Tom Perry's address.
We've talked here recently about priesthood and priesthood keys. The restoration of the priesthood explains some of why missionary work matters so much to us as Mormons. Just as the Savior commanded His authorized, early apostles to take the gospel to all the world, so has He given that commandment to latter-day servants. That charge extends to all of us as members of the Church; we consider it part of our covenant responsibility and commission (the word used by Elder Russell M. Nelson last night) to at least give people the opportunity to hear the message of the restored gospel of Jesus Christ.
If you feel now is a time when you would like to hear more about the message of the restored gospel, you can chat anytime with a missionary at http://mormon.org/chat. (If you live in the U.S. or Canada, you can also speak with a missionary over the phone. Please call: 1-888-537-6600.
You can also request a personal visit in your home.
If you are in the mode of just wanting to read and study on your own, you can read more about our beliefs at Mormon.org. You can request a free copy of The Book of Mormon. Or you can read The Book of Mormon online.
And now, there will be missionaries available at local Mormon church buildings to give you a tour and talk more about our beliefs, if that is something you are interested in. You may also find a visitor's center close to you at a Mormon temple or historical site.
In short, if you have questions, ask the missionaries! You can also submit any questions you have here, or email us at 'mormonwomen' at 'gmail' d/ 'com'.