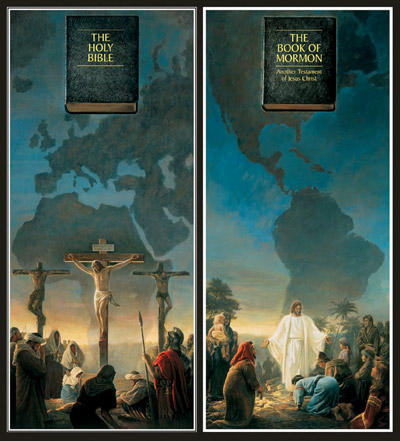 Members of The Church of Jesus Christ of Latter-day Saints believe in the Bible, just as other Christians do. And we also believe in the Book of Mormon as another testament of Jesus Christ. It's a record of the Lord's dealings with people who came to/lived on the American continent in ancient times (most of the book spans the time period from about 600 B.C. to 421 A.D.
The Book of Mormon helps us understand more about the mission of Jesus Christ, of His power, mercy and grace, of our complete reliance on Him. It teaches us about how we can become more like Him, what we can do in our lives to follow Him.
You can read what Mormon women have to say about the Book of Mormon at these (and other) Book of Mormon blog hops, hosted at We Talk of Christ, We Rejoice in Christ.
Testimonies of the Book of Mormon
And, actually, Mormon men join in on the sharing as well. See this post, for example. Middle-aged Mormon Man writes:
This book is one of my best friends. It is there to:

-comfort me when I am grieving,

-counsel me when I am struggling,

-give me peace when I am in turmoil,

and

-call me out when I need it.
And for Lego fans out there, you might enjoy hearing about the Book of Mormon from a fellow Lego fanatic. (He's used Legos to represent several stories in the Book of Mormon!)
If you are a Mormon blogger and would like to join in on the Book of Mormon Forum/blog hop, hop on over to Jocelyn's blog to find out more.