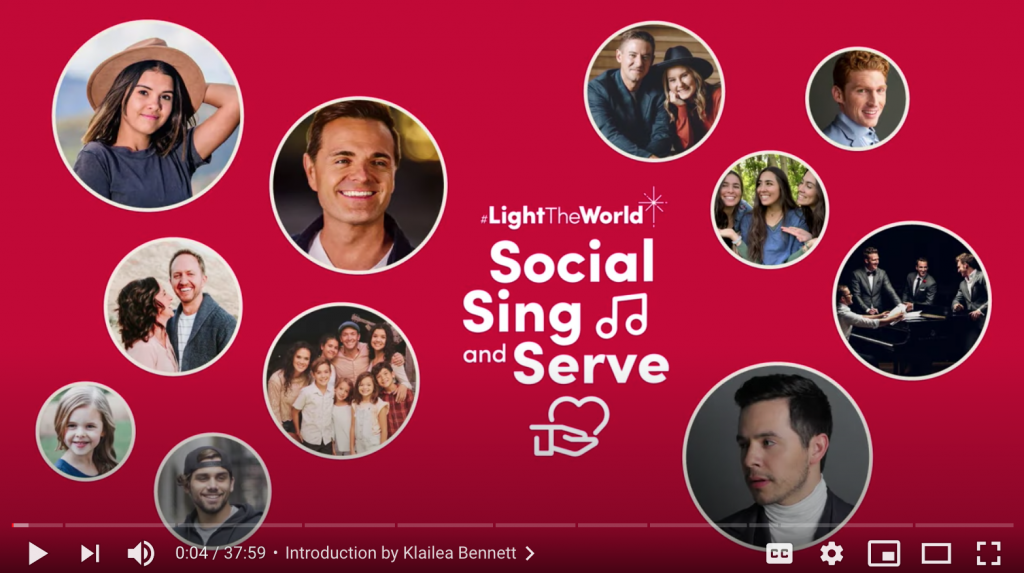 Last night was the first ever #LightTheWorld (virtual) Social Sing and Serve event. It was a beautiful virtual concert of performances, along with simple invitations for ways to show kindness and love to people in our spheres. (e.g., text the 11th person in your contact list and share a compliment or some kind words; mail a note of love to a parent, teacher, or other special someone; reach out by video or phone to someone who might be feeling extra lonely this year).
The music includes a variety of performances, including GENTRI performing in perfect harmony even though they were each in their own homes. Elenyi (which means "ray of light") sings "Oh, Come All Ye Faithful" — like three angels! David Archuleta expresses how Christ brings hope in dark, difficult times through the song, "In The Bleak Midwinter." Steven Sharp Nelson plays "Away in a Manger" while friends from the deaf community perform the lyrics in American Sign Language. Exquisite. The virtual choir of Aberdeen Lane and friends singing "O Come, O Come, Emmanuel" is incredible. And you can see last year's special video of Claire Crosby singing "Silent Night" while Russell M. Nelson, president of The Church of Jesus Christ of Latter-day Saints.
Besides music, there are also some heartwarming moments of service captured in this video. If you haven't seen the wheelchair version of BMX, you'll see some amazing video clips of Jared "Wheelz" Fotheringham. He shares some of his indomitable spirit with wheelchair-bound children and youth. And Stuart Edge does some of his fun hidden camera magic, with help from some college students (and a huge teddy bear) to brighten the days of some healthcare workers.
It's amazing to see what people are doing to adapt to the limitations that COVID-19 has brought. We wouldn't have had such a concert without the pandemic. There are bright spots in this difficult time. Keeping looking for the light in your world. God is aware of you, of us!
The video of this #LightTheWorld event is embedded below.