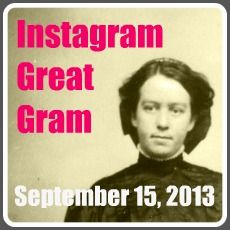 As part of the annual Proclamation Celebration put on by several LDS bloggers, today is Instagram Great Gram Day. We'd love to have you participate. It's easy! (The following instructions came from
Chocolate on My Cranium
, one of the hosting blogs of the Proclamation Celebration.)
What: Instagram Great Gram Day, a lovely idea developed by Erika Loveland. Seriously, she is a genius!
Why: To raise awareness that the worth of all souls is great, and because of Jesus Christ, our families can be together forever.
When: September 15, 2013 – The first day of the Family Proclamation Celebration!
What do I do on September 15?  Post your ancestor's picture onto Facebook as your profile picture for the whole day, and/or a few times throughout the day onto your Instagram and Twitter feeds or on your blog.
In your status, caption, or tweet, include with the picture:
– The person's name
– How you're related
– A brief blurb on their life if you know it
– This link: www.familysearch.org/photos/
– And a fun little hash tag like #IGGday, #grateful, #Ancestor, or #FamilySearch