~by Michelle
I love it when I find out about Church resources from my daughter! She's a passionate media follower and she introduced me to these videos that The Church of Jesus Christ of Latter-day Saints recently released several new videos that give some summary information about our faith.
What do Mormons believe? The video at the end of this post explains some of our basic beliefs. Following is a summary of what is shared in the video.
We believe in God, the Father, and that we are all His children. The reality and power of this doctrine is so simple, and yet it has the power to change individual lives and relationships. Simply knowing we are loved by our Father in Heaven, and that ALL of His children are loved by Him, is a doctrine that is an anchor in our lives.
We believe in Jesus Christ, the Only Begotten Son of God, our Savior and Redeemer. Everything we do and believe centers on Jesus Christ and His role in Heavenly Father's plan for His children. We know that it is only by His grace that we have the opportunity to live and breathe and learn and grow and repent and potentially live with God and our families again after this life.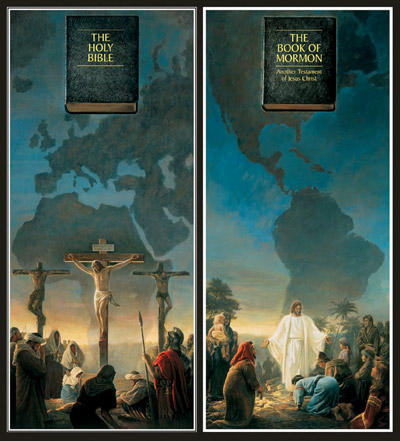 We believe in the scriptures. We love and use the Bible (both the Old and New Testaments) and gratefully proclaim that the Book of Mormon is also a testament of Jesus Christ.
We believe in living prophets, in latter-day revelation just as in the days of ancient prophets where the Lord spoke to and reached out to the people through prophets like Moses, Abraham, Isaiah, Jeremiah, and then Peter and the apostles in the New Testament. (To read more about the experience depicted in the photo above, see this post by Becky called Meeting the Prophet on the Roadside in Gila Valley.)
We also believe in personal revelation — in being able to connect directly with God in prayer and to have Him answer prayers through the voice of the Holy Spirit and through tender mercies that happen in our lives.
We believe in seeking to follow Jesus Christ, to serve and love others. We believe in seeking to live what we believe. We know we aren't perfect at that, and we definitely know we aren't the only ones who care about serving others, but the bottom line of our faith, as Clayton Christensen explains in this video, is that it moves us to want to help others.
There's a funny story from a talk given by President Henry B. Eyring that comes to mind.
I was part of the crew of Latter-day Saints who spent a number of nights putting in landscaping. I remember the last night, standing next to the husband of the family as we finished. He surveyed our work and said to us standing nearby, "This is the third yard you Mormons have put in for us, and I think this is the best." And then he quietly but firmly told me of the great satisfaction he got from membership in his own church, a conversation we had often in the years he lived there.

In all that time, the acts of kindness extended to him and his family never ceased because the neighbors really came to love them.
We are encouraged, as described on this LDS Humanitarian Services website page, to be proactive about seeking opportunities in our communities to help and serve. (I didn't know that in the U.S. one can call 211 in most metropolitan areas to find out about community service opportunities!)
What do Mormons believe? You can find out more about our beliefs at Mormon.org.