We're reposting parts of posts from years past that address this question that people are asking right now:
Do Mormons celebrate Halloween?
– – – – – –
~by Katie**
I think celebrate may be too strong of word for many of us, but most LDS families happily participate in the family-oriented aspects of Halloween.
This picture was taken at a Halloween party that our ward (congregation) had. Everyone came dressed up — adults and children — and usually "Fall" type of activities take place such as apple bobbing, jack-o-lantern carving and costume parades. As a kid, I trick-or-treated until I was around 12 years old. My parents felt it was something more for little kids to do.
What about costumes? We had a few rules at our house (other families may do things differently). The costume needed to be modest, not gruesome or scary, and not expensive. After that, the sky was the limit. One year my sister was a hot dog. I tried to be a vacuum once, but couldn't quite figure out the logistics. One year my mom stored the costumes for the ward roadshow [an original play], so I used those costumes. For my own kids, it is about the same. Lately, my daughter has been wanting to dress up a little scarier (witches, vampires, monsters). We discuss the costume options and figure out what will work best. For this last Halloween, my daughter wanted to be a vampire, but was grossed out by the thought of fangs and blood. So she decided to be a Vegetarian Vampire (I promise, this was not Twilight related).
– – – – –
~by Heidi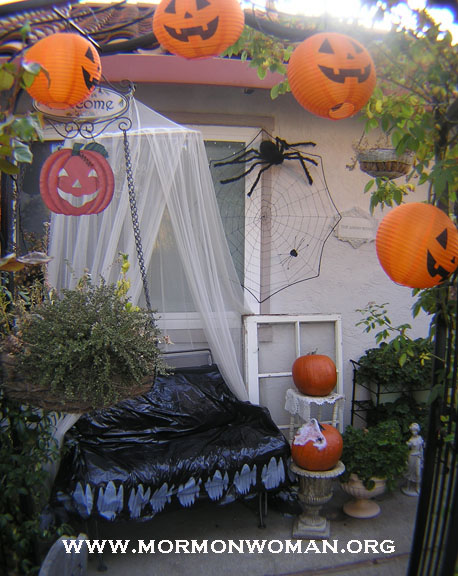 Here at Mormon Women, we receive numerous emails about Halloween in the month of October. What started out as a pagan ritual in the centuries long before the birth of Jesus Christ, has now, in the United States, become mostly a festive holiday that, through the lights, colorful costumes and fun food, brightens up the darkening days of autumn. Whether or not one celebrates Halloween is a personal preference and there is no official LDS doctrine in regards to it. Most Mormons I know think of Halloween as a fun time for children with rituals and customs that bring warmth to days that are becoming colder.
Most Mormons will dress up their children for Trick-or-Treating (a custom that includes children going from door to door to ask for candy), celebrations at school, at home, and at the church building. Some costumes are silly and some are spooky. Masks are usually avoided as they are considered dangerous, not just amongst members of the Mormon Church, but in society at large. For example, masks can make it hard to see when out Trick-or-Treating in the dark of night. They also make it hard to know the identity of a person, making it easier for a stranger to attend functions to which he/she was not invited. Also, when people feel as if they are anonymous, it can encourage negative behavior they would not normally engage in. In addition, truly scary or gory costumes are discouraged when attending functions attended by small children who might become frightened.
Many people decorate their homes just as they do at Christmastime. Some decorate outside, some decorate inside, some do both.  Some set up haunted houses within their own homes for people to tour through. Again, anything too scary is never a good idea when children are involved.
In the U.S., Halloween is a time when adults engage in a lot of drinking of alcoholic beverages. Mormons don't. [Read more about the Mormon health code, called the Word of Wisdom.] Other than that, the only thing that is truly different about Halloween amongst Mormons is when it falls on a Sunday. In that case, the celebrations are usually shifted to Saturday night, or even Friday. In such a case, Trick-or-Treating is limited to only Mormons as it would be rude to knock on a stranger's  door the night before Halloween and ask for candy. Then on Sunday night, some Mormons will choose to turn off their porch light, a signal that no candy will be given at that particular home. However, most will have a bowl of candy ready for the children of the neighborhood who come knocking on their doors.
Our ward (church congregation) has a Halloween party that includes traditional games such as bobbing for apples and a costume parade. It also includes a Trunk-or-Treat, where-in the children go from car trunk to car trunk to ask for candy out in the parking lot of the church building. Many of the cars are heavily decorated and there is a prize for the best costumes as well as the best decorated car. In some wards I have attended, Trick-or-Treating is done in the building where-in each room is decorated as if it were someone's home. It's a fun, warm and safe solution to a night that can be a bit dangerous.
To those who live where Halloween is a holiday, what (if anything) do you to enjoy the day?

——-
Here are some pictures provided by other Mormon women of costumes from Halloween past.
l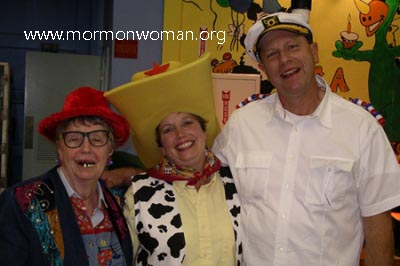 **Please note: The answers in "Ask a Mormon Woman" and (other content on this site) reflect the thoughts and perspectives of the administrators at Mormon Women. Although we strive to have our content consistent with the Church's doctrine and teachings, we do not speak officially for the Church of Jesus Christ of Latter-Day Saints. For official information about or from the Church, please visit www.mormon.org or www.lds.org.
—-
For more Ask a Mormon Woman questions/answers, please click here.
Do you have a question you would like us to address? Simply include a comment below, or send an email at gmail with the username 'mormonwoman' or 'mormonwomen'