~by Brenda*
Q: Do Mormons celebrate Christmas?
A: Oh yes! Members of The Church of Jesus Christ of Latter-day Saints believe that Jesus Christ is the Creator and Savior of the world. We are eager along with the rest of the Christian world to celebrate His birth.
Some of the ways Mormons celebrate Christmas are through music, lights, scripture, parties, service and testimony.
Music
Wards and branch [congregation] choirs all over the world are fervently practicing hymns in preparation for Christmas. Participating in choir often gives the singers the opportunity to testify of the birth of Jesus Christ through song. Only Easter Sunday rivals the Christmas season for the most congregational choir preparation.
The Mormon Tabernacle Choir is also prepping for a Christmas Concert of their own. This year, Michael York is narrating and David Archuleta is performing alongside the choir. In addition to choir music, I love to have Christmas music from all genres playing all December long to fill my home with seasonal reflection.
* Photo courtesy LDS newsroom
Lights
Jesus is the light and life of the world. To announce His birth a new star was set in heaven that led wise men to seek Him. In remembrance of the star that first led people to Jesus Christ, Mormons celebrate the Christmas season with lights. We adorn our homes and temples in lights. Here is a picture of my local temple at the Christmas season. We like to visit the temple with our children for family home evening so they can feel the peace and love of Jesus Christ that permeates this season.
*Photo by Hugh Harline Photography Oakland Temple Hill Website
Scripture
Mormon families are encouraged to hold daily personal and family scripture studies. Every Monday night we gather with our individual families for a lesson, treats and/or an activity. Many individuals and families will take the opportunity during one of these settings to review the scriptures that prophesy of and record Jesus' birth.
Because Mormons believe that the Book of Mormon is another testament of Jesus Christ similar to the Bible, we also have the pleasure of studying how people on the American continents came to a knowledge of the Savior's birth through miracles and celestial displays just as wondrous as those witnessed in and around Bethlehem.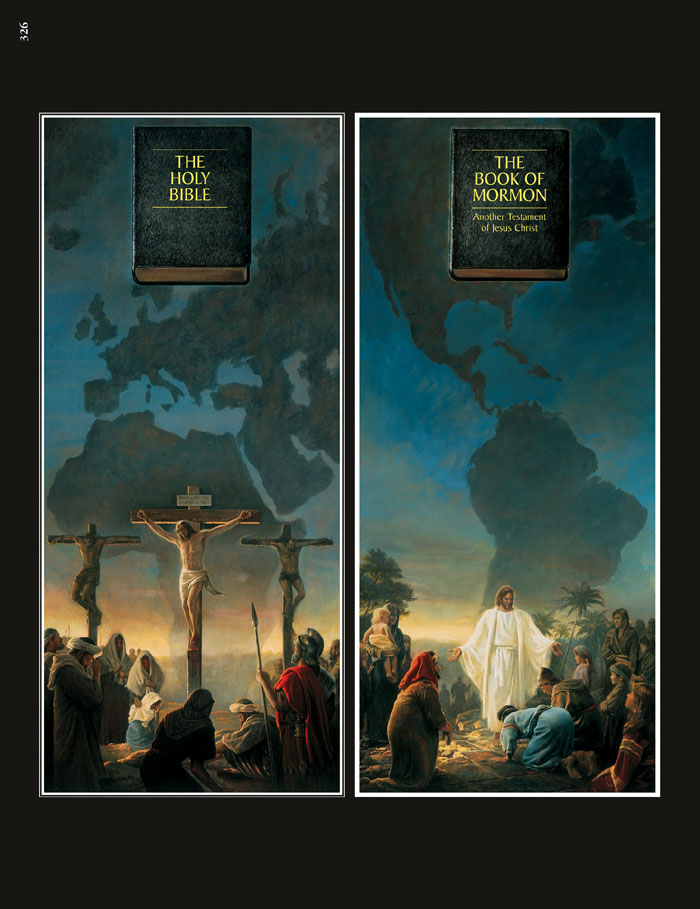 Parties
My December calendar is quickly filling up! On December 1st I have my Relief Society Christmas party. We will be collecting gifts to give to individuals in need as well as having a dinner and show. On December 11th we will be having our ward congregation's Christmas Party. Our Primary will be performing a Nativity scene with music, we have invited the local high school choir to perform as well as having a ward dinner. I am also hosting a couples' Christmas party at my house just for fun as well as hosting book group at my house. For book group, we are enacting a reader's theater of our favorite scenes of A Christmas Carol by Charles Dickens. I've had to deck my halls a little early in preparation for the festivities at my house. I will also be attending a family Christmas party on the 23rd with all of my extended family including aunts, uncles, and cousins. On Christmas Eve, my brothers and sisters will gather at my house for dinner and games. We'll read about the Savior's birth in Luke and tuck tiny children into bed who hope that Santa will visit during the night.
Service
Every year I have participated in providing food and gifts for individuals or families that have fallen on hard times for Christmas. When I worked in the Young Women program in my ward, we would deliver gift baskets to people in our ward and community who were sick, lonely, or had recently lost a loved one. We would knock on their door and sing carols and deliver homemade jams, bread, nuts and fruits. I'm sure the food was appreciated but not nearly as much as just being remembered. Our ward would also host a giving tree where anonymous needs of families were written on the back of paper ornaments. Individuals would pull an ornament from the tree and purchase the item and return it to the Relief Society presidency. The needed items like socks, shoes, church clothes and fun items like toys for children would then be delivered in time for Christmas.
Christmas is a wonderful time to reconnect with neighbors and friends through small gifts of love. My kids love to make the Christmas deliveries to our loved ones of baked goods or candies, and they love to receive them as well!
Testimony
Testimony can mean different things to different people, but for me it means to think, live and speak like a Christian. How can I show the Lord I love him, and that I am thankful that He was born, lived a sinless life and died for me that I might live forever? By always remembering Him. I can live my testimony of His sacrifice when I choose to repent. I can show my love by keeping His commandments. I can follow His example by loving others and giving freely. I will formally worship at sacrament meetings and at the Temple, but the best gift I can give this season will be my testimony that Jesus Christ lives.
———————
Every year, our Prophet and his counselors give a Christmas devotional to bear testimony of Jesus Christ. You can watch this devotional Sunday, December 5 at 6pm Mountain Time. Follow this link for more information:
2010 First Presidency Christmas Devotional
—
**Please note: The answers in "Ask a Mormon Woman" reflect the thoughts, perspectives, and experiences of individuals. Although here at Mormon Women: Who We Are, we strive to have our content consistent with the Church's doctrine and teachings, we do not speak officially for The Church of Jesus Christ of Latter-day Saints. For official Church information about Mormon beliefs, visit www.mormon.org/faith or www.lds.org.
Have a question you would like to ask? Send an email to us at gmail, with username 'mormonwoman'