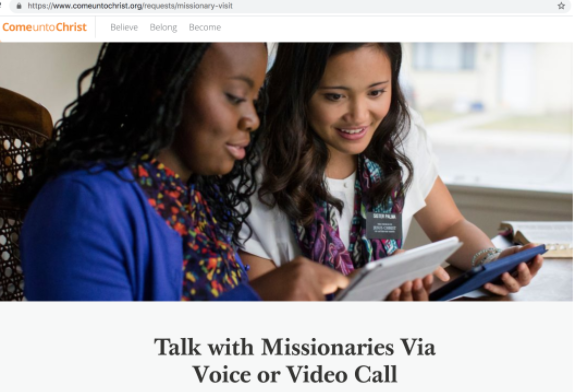 Are you curious about The Church of Jesus Christ of Latter-day Saints, but not currently comfortable with the idea of a face-to-face discussion with Mormon missionaries? Would you like to be able to have a real-time conversation about faith and God beliefs with missionaries while maintaining some anonymity and personal space?
Then the option to have a voice or video call with missionaries may be just the thing for you. Here you can have a real-time, no-obligation discussion via your phone or computer about Mormonism with a missionary. Ask questions about the Church in the privacy and comfort of your home, or in a hotel room while on a trip, or on your handheld device while riding the bus. Chat at a time that works for you using a medium that allows you flexibility and some space to process what you are learning.
If Facebook is more your style, you can connect with Mormon missionaries there as well. For example, at the time of this post, I two Facebook missionaries in person and they were fantastic. ("Elder" is a title that male missionaries have during the time they are serving. Women go by "Sister.")
Habla Español? Hay misioneros que pueden ayudarle tambien. (Actually, there are missionaries who speak a wide array of languages.
Of course, if and when you ever would like a face-to-face discussion, you can request to have missionaries who live in your area visit you.